CBLS 272 – Compost Black Label Sessions Radio – guestmix by Rainer Trüby
This week we are happy to feature a great guestmix from Rainer Trueby who's part of the Compost family from the begining on. His latest masterpiece "Slouse – fishing in slower territories" has been released today and recieved a lot of love from the press as well as from the a-list DJ circle. This mix is just a perfect example of what "Slouse" is all about, a very tasty blend of mid-tempo house nuggets. So better watch out for the compilation which is available on CD, 2LP and Digital – but before that – sit back and listen to Rainer's mix – recorded at the legendary Garito Cafe in Palma earlier this year. Enjoy!
Sorry, no tracklisting available!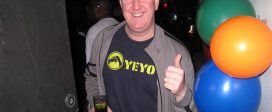 By Michael Terzian Wed August 1, 2018