CBLS 274 – Compost Black Label Sessions Radio – guestmix by Rafael Da Cruz
It's time for a new show, isn't it?
Today we are happy to share a guestmix from our new labelbuddy Rafael Da Cruz who just dropped his beautiful debut ep incl. remixes by the likes of The Black 80s, Cosmic Cowboys and David Hasert on Compost Black two weeks ago. Enjoy your weekend ladies and lads.
Tracklisting:
01. Kollektiv Turmstrasse – Last Day (David August Reversion Remix)
02. Adriatique – Numb
03. Kerb Staller – Siren Song (Thugfuckers Lios Wide Shut Rework)
04. Rafael Da Cruz – Untitled (Unreleased)
05. Max Cue – Nothing Personal (Luis Junior Remix)
06. Ibellini – I Dream Of Funk
07. Max Cue – Patience
08. Kings Of Tomorrow – Flutez
09. Rafael Da Cruz – Renaissance (Original Mix)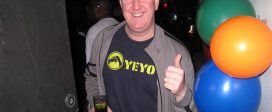 By Michael Terzian Wed August 1, 2018