Big Bad Boogaloo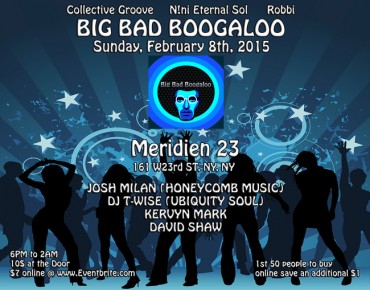 BIG BAD BOOGALOO
music by resident djs: Kervyn Mark & David Shaw
with very special Guests
Josh Milan (Honeycomb Music)
DJ T-Wise (Ubiquity Soul)
Sunday, February 8th, 2015
doors open at 6pm
Meridien 23
161 West 23rd Street
New York, NY
BOOGALOO- [boog-uh-loo, boo-guh-]
noun, plural boog·a·loos.
1.a fast dance of Afro-American origin, performed by couples and characterized by dancing apart and moving the body in short, quick movements to the beat of the music.
2.Slang term for a party ,dance ,or gathering, good time used with descriptions in the 70's as in a "Bad Boogaloo" meaning a "hot party"
" If it's got soul and it's danceable…we might play it …from today's Soulful house to the classics of Blaxplotation era soul….disco funk and R&B
..it's about a friendly vibe and atmosphere ..good music ..relaxation and fun!! "
Bio:
Big Bad Boogaloo was first launched in April 2014 and June 2014,featuring local DJ's of note including ; The legendary Tony Humphries, Long Island's Master Kev , NY turntable veteran Kervyn Mark , DJ/Producer extraordinaire Josh Milan , & David Shaw
The musical format is an amalgamation of soul oriented dance music. The DJ's play to the cowd and can draw from music from the 70's blaxploitation era through Disco ,Garage,80-90's Classic Dance and Funk right up to today's Soulful house.
Purchase Reduced Tickets at: www.eventbrite.com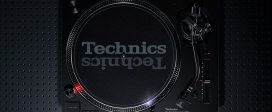 Las Vegas, NV, United States, 7 January 2019 – Technics today unveiled the new SL-1200MK7 Direct Drive Turntable. The new model …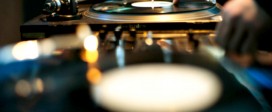 Motion FM – December 2018 Chart by Panos B