Shelter 30th Anniversary – Friday, Sep 17, 2021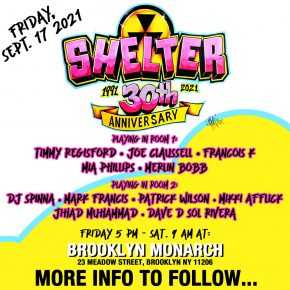 SHELTER 30th ANNIVERSARY PARTY
SEPT 17 2021. DOORS OPEN 5:00 PM
FRIDAY NIGHT.
30 years and still running. Join us and celebrate the longest running underground house music party! The doors open Friday, September 17 AT 5 PM And close at 9 AM Saturday at the Brooklyn Monarch.
All tickets are non refundable.
All sales are final.
playing in room 1:
TIMMY REGISFORD • JOE CLAUSSELL • FRANCOIS K
MIA PHILLIPS • MERLIN BOBB • TONY HUMPHRIES • LOUIE VEGA
playing in room 2:
DJ SPINNA • MARK FRANCIS • PATRICK WILSON
MIKKI AFFLICK • JIHAD MUHAMMAD • DAVE D SOL RIVERA
PLUS SURPRISE GUEST!!!
BROOKLYN MONARCH
23 Meadow Street,
Brooklyn Ny 11206
SHELTER:
30 Years Of Being Different
By Yolanda Cope
The opening in March 1991 of Shelter on
6 Hubert St. was a journey of a musical epiphany.
We came for a purpose. The purpose was to dance and to listen to good music.
We did not know where we were going,but we did not care. We were on a musical journey.
We took comfort at 6 Hubert St.
We found our home.
Shelter was the place to be.
Your soul cried Yes. Your soul screamed Hallelujah.
Your needs were met.
You danced and you danced and you danced.
You left with a new attitude.
We were allowed to be ourselves.
We were free. We were happy.
We came back for more.
We were hungry and thirsty for the beats and sounds of the drums.
Today we have accomplished 30 years of being different.
Never better or average.We were just different.
September 17,2021 Please be in attendance for this phenomenal event.
This is our history! Our story!
Who can tell the story…..
Who can be the author…..
Timmy Regisford
Let's rejoice,sing,shout and praise
30 years of being different!
Let's come together!