Joaquin Joe Claussell – Unofficial Edits & Overdubs Classics EP Part 1
All Edits and Overdubs performed by Joaquin Joe Claussell 2018 Raimo Symphonies.
Inspired by a global demand for represses of Joe Claussell's Unofficial Edits & Overdubs Series,
We've decided to compile a vinyl series which will include some tunes that were previously released, that if available, sell for top dollar on discogs.
We coupled them with tunes that were never before released on vinyl and the results, well, we'll let music take it from here.
Label: Deep Culture Music US
Format: 12″ + insert
Cat: CIRCUITTPROMOCIRCUITUPROB 123
Released: 19 Feb 18
Genre: Deep House

Side 1
1. "Ogum Knows Better (Ogum E Que Sabe)" (6:22)
2. "In Spirit" (8:56)
Side 2
1. "Everythings In It's Right Place" (10:15)
2. "Pagliaci" (Vamp edit) (5:35)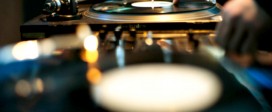 Motion FM – February 2019 Chart by Panos B