Mental Remedy Presents: A Journey To Noi
A Journey to Noi (Soundtrack by Mental Remedy)
A story that is told through music, of a Japanese artist who travels to a foreign land and finds her true calling through the guidance of melody, rhythm, dance, mentorships and friendships.
Music by: Mental Remedy.
SRM 10003
Produced by Joaquin Joe Claussell For Sacred Rhythm Music & Cosmic Arts
Although the music on this CD Album was written, produced and performed by Joaquin Joe Claussell aka "Mental Remedy." it should not be mistaken as a Mental Remedy album.
What is this, however, is a music soundtrack based on a story which was shared with Joaquin Joe Claussell by a good friend and fellow artist Naoyo Terada.
Born and Raised in Japan, Naoyo set out on a journey to America that began around 20 years ago.
In pursuing her dream and new way of life; Naoyo set her sights on America. While there and within a relatively short period of time, she has been blessed with valuable lessons, as well as gained profound insights that would not only bring out from within-her calling as an artist, but more profound, bestow upon her lessons on spirituality, creativity and a love for music that would dramatically change her life moving forward…
It is important that you the listener are made aware that, "This is not a usual dance music CD." Rather, it should be listened and absorbed as conscious, cosmic feel good music.
But only if you open your mind and let a stranger in.
The harmonic tones will do the rest of the healing…
Music Is Love.
Thank You for Listening, Love and Enjoy!
Music Produced by Joaquin Joe Claussell
for Sacred Rhythm Music & Cosmic Arts.
Recorded at Benny's Wash n Dry and Eastside Sounds NYC.
Recording Engineers Fran Cathcart and Bennett Paster.
Mixed @ Eastside Sounds NYC
Mixing Engineer: Fran Cathcart
DDP Mastering Alex Salt
Executive Producers: Naovo Terada & Joaquin Joe Claussell
Musicians:
Yumi Korusawa: Koto
Bennett Paster: Grand Piano, Synthesizers & Kalimba
Christian Howells: Violas, Violins and Cellos
Fredric Lafarge's: Synthesizers
Jose Cochise Claussell: African Drums & Percussion
Serge Brandao: Bass
Joaquin Joe Claussell: Programming, Bass, Toys,
Organic Percussion & Rain Sticks.
CAT# SRM-10003
Manufactured by Sacred Rhythm Music & Cosmic Arts, INC
Distributed by Atypical Dopeness Distribution
2017 Sacred Rhythm Music & Cosmic Arts, inc
www.sacredrhythmmusic.net
Sacred Rhythm US
Format: CD
Cat: SRM 10003CD
Released: 26 Mar 18
Genre: Balearic/Downtempo
BUY
Tracklist
Side 1
1. "Cosmic Frequencies"
2. "It All Began From The East"
3. "Peace With In" (interlude)
4. "It All Began In The East, Then Two Worlds Became One"
5. "A New Horizon"
6. "Joy's A Blessing"
7. "Passage"
8. "Miracles In Rishikesh"
9. "A Dance To Gratitude"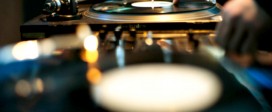 Motion FM – February 2019 Chart by Panos B