Reel People feat Navasha Daya – I'm In Love
Special 12″ release in association with Record Store Day 2018 Limited Edition 12″ Vinyl release from Reel People feat. Navasha Daya. Both tracks taken from forthcoming Reel People album 'Retroflections' to be released later in 2018.The album are RP recreating classic Soul, Disco & Boogie records from the late 1970's and 80's.
Featuring the amazing Navasha Daya (Fertile Ground) on vocals, Reel People have stunningly put together new versions of 'Can't Fake The Feeling' (Geraldine Hunt) and 'I'm In Love' (Evelyn 'Champagne' King)."
Pressed on 140g vinyl with full picture sleeve in shrink-wrap.
Label: Reel People Music
Format: 12″
Cat: RPM RSD 18
Released: 02 May 18
Genre: Disco/Nu-Disco
BUY
Tracklist
Side 1
1. "I'm In Love" (12″ mix) (5:20)
2. "I'm In Love" (12″ instrumental mix) (5:21)
Side 2
1. "Can't Fake The Feeling" (12″ mix) (5:25)
2. "Can't Fake The Feeling" (12″ instrumental mix) (5:25)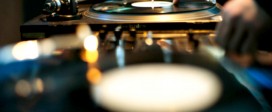 Motion FM – February 2019 Chart by Panos B